Whitewater Bonnie Belle Mesa Wind turbine project alternative plan with fewer turbines is approved
RECALLING GAVIN NEWSOM might help to someday eliminate these wasteful blightist projects
read my oppositon letter sent 6/18/2020 click here
Bonnie Belle is only 1/2 mile from this energy producing and burning wind plantation so it will affect that area more than any.
Since they are not going to be installing the two closest to that area it is an improvement. Did our efforts help shape this change? I think they have.
October 1, 2020
Unfortunately they approved the project though this is not much of a surprise. They did chose PLAN C a 'reduced' number of turbines. It will go from 11 now up to 7 and instead of 30 acres down to 26. That is a reduction in acreage of 35% from the 1980's site plan that currently has 40 acres and hundreds of turbines planned for removal. In a way those being removed will be an improvement but they are adding very tall ones with massive blade sweeps. These larger blades are hypnotically annoying as anyone who has driven I-10 has noticed in viewing newer tall ones there so close to the freeway. Someone needs to calculate the amount of total VOLUME of space these taller ones use compared to the others. Although there were over 400 of the smaller ones on a larger acreage plot their over all VOLUME of space was likely less. The final Plan C is a reduction in acreage from the original proposal Plan A going from 30 acres to 26 which comes out to about 13% less. Maybe commenters helped make this change?Item 3.2
shown here
presents turbines at no more than 499 feet high from bast to extended tip. Since they are 499 feet or less FAA may not require flashing red lights on each of them. Project A shows to the far right turbines #4 and #9 which have been removed from the approved Project C.
reference
It also states: Under Alternative C –the Reduced Turbine Alternative, the two eastern-most WTGs (4 and 9) would be eliminated. Additionally, the southern portion of the ROW would have two turbines (instead of three with the Proposed Action) and the northern portion of the ROW would have seven turbines (instead of eight with the Proposed Action). These changes would mostly affect views from KOP 1 and the Bonnie Bell area and KOP 2 and the Whitewater area. KOP 4 was also simulated to review any changes to the PCT area between the Proposed Action and the revised Alternative.
So it appears they removed a total of 4 turbines.
view some topographic maps of the area between Whitewater, Desert Hot Springs, and Morongo Valley to see the elevations
Plan A
https://eplanning.blm.gov/public_projects/1504648/200364317/20027224/250033426/FINAL%20Mesa%20Wind%20EA%20Public%20Comment%20Presentation%20(508).pdf
Plan C proposed - the final approved plan removes #5 upper most and #3 lower most turbines and #4 and #9 are not shown on this
https://eplanning.blm.gov/public_projects/1504648/200364317/20027243/250033445/1.%20Mesa%20Wind%20Repower%20Final%20EA%20(508).pdf
as you can see here the Bonnie Belle community will fare a tad better now with #4 and #9 gone from the plan
(this map shows where they were to be located)
https://eplanning.blm.gov/public_projects/1504648/200364317/20027226/250033428/Draft Appendix A Figures.pdf
BLM approves Mesa Wind Repower Project near Palm Springs
PALM SPRINGS, Calif.
–Today, the Bureau of Land Management Palm Springs-South Coast Field Office (BLM) announced the approval of
the Mesa Wind Repower Project, located on public lands 11 miles northwest of the City of Palm Springs in Riverside County.
The right-of-way holder, Brookfield Renewables, proposes to repower the existing 30-megawatt (MW) wind project, which was built in 1983. The repowering of the project involves the removal of approximately 460 older generation turbines, and the installation of up to nine new wind turbine generators.
"The Mesa Wind Repower Project is a good example of how evolving technologies can help meet our energy needs while allowing for more efficient use of our public lands,"
said Acting BLM Field Manager Jeremiah Karuzas. The Environmental Assessment addresses the potential impacts of the wind repowering project and was prepared by the BLM as the lead agency under the National Environmental Policy Act.
The EA analyzed three alternatives: the Proposed Action Alternative A, No Action Alternative B and Reduced Alternative C. Through this analysis and after considering public comment, the BLM selected the Reduced Alternative C, which authorizes the removal of the existing wind turbines and the installation of up to nine new wind turbines. This alternative was selected because it meets the energy generation goal of the project while reducing the potential for impacts to visual resources. Reduced Alternate C also reduces ground disturbance.
For copies of the final EA, decision record and finding of no significant impacts, please visit:
https://bit.ly/3dtnt7C
.
For further information, contact Dan Ryan, BLM project manager at 530-252-5321, or by email at
BLM_CA_PS_MesaWind@blm.gov
THE PACIFIC CREST TRAIL WILL HAVE GROTESQUE VIEWS OF THESE MONSTROCITIES
View from .8 mile east on Highway 111 into Palm Springs will see a stark change in the viewscape.
The first image below is current view. Look at the left side at the middle mountain ridgeline. You hardly notice the hundreds of tiny old 1980's wind turbines. I'm talking to the left, not the ones on top/middle. Those will remain.
This next image below shows how it will soon look with fewer but MASSIVELY tall and thick turbines. These images are found here https://eplanning.blm.gov/public_projects/1504648/200364317/20027210/250033412/Appendix%20H%20Visual%20Resources%20Study%20(508).pdf
I think they will be seen from Morongo Valley and Desert Hot Springs thus eroding the ridgelines and filling it with flashing red lights at night. Yuck.
The height these appear to be placed at on the mountain is about 2600 to 2700 feet. The middle center section of Morongo Valley is at that height. I'm not sure the mountain ridges in between would block these. There are only small sections of peak that rise up to 3000 feet. I am almost certain areas of Morongo Valley is going to be seeing red flashing lights and certainly the tops of these giant propellers not quite like this but just the very tops. If you are able to use any programs that can caluclate this exactly please let me know at ken@horsepower.net
This is how the 7 turbines in this final approved Plan C will look south end of Bonnie Belle.
The final plan also shows this where the two most eastern ones will not be placed thus only the ones more west will present themselves peeking over the ridgeline now.
Compare to previous presentation I presented here June 2020 based on their preferred plan with 11 turbines and the before picture where there is nothing in view in June 2020 so the above is an improvement
| | |
| --- | --- |
| before | after |
Also of note, they are planning to build an 'alternate' road from Banning to Cabazon west of this area along I-10. There are also some other wind projects Coachella Wind Holdings Repower, Painted Hills Wind Repower, and residential and commercial. The Rancho San Gorgonio housing development would offer 3,385 units, upgrades of 48 miles of 220V power lines on existing corridors.
wind energy is a horrible use of natural resources that is causing our grid to fail at the worst times in the middle of summer - in August 2020 we witnessed utilities provide us rolling blackouts - we would not have this problem with reliable sources of energy that leave our gorgeous mountains intact
they are planning replacement turbines at 2600 feet rising up to 3200 feet towering over this idyllic area of California even seen from Morongo Valley
learn more about this project compare views as they are now to how they might look
There are 450 plus old short lattice work grey metal structured turbines from the 1980's that have not been working for decades sitting there being ugly they sit stand on PUBLIC LAND. They want to put up new 499 foot tall ones. It would destroy the ridge line west of Desert Hot Springs as they would poke up above the first ridgeline. The turbines would be placed directly to the west of Bonnie Belle at Whitewater and another section south of that. If you look directly west on Pierson Blvd in Desert Hot Springs up the hill these would poke up just a little to the left (south) of that ridgeline.
A project in Europe was just turned down based on visual disturbance and is worth looking at how they justified NOT ALLOWING IT. It was stated "A windfarm planned for a scenic area near Gougane Barra has been refused planning permission by Cork County Council. Wingleaf Ltd. had applied for permission for a seven-turbine windfarm, electricity substation, and battery storage containers at Curraglass, close to the Pass of Keimaneigh, on the site of a previous now-defunct windfarm. The planned windfarm would, the refusal stated: 'provide for a highly intrusive, visually domineering form of development that debases the integrity and the landscape character, that would seriously and unnecessarily injure the High Value Landscape areas'." https://www.wind-watch.org/news/2020/09/02/wind-farm-planned-for-scenic-area-near-gougane-barra-refused-planning/
here is what I wrote to BLM in opposition add link later
HOW TO MAKE A COMMENT ON THIS PROJECT

comments are closed - they were due June 19, 2020

I had emailed my comments on the 18th. They never sent me a confirmation. These are routinely sent but not with BLM. I inquired if they had. They said they did not receive it and I could resend it if it shows the date I originally sent. They again did not confirm that. I inqured again. They finally stated they did receive it and it will be "incorporated into the comment matrix". I state this so you know how this process works.

The draft EA and a presentation summarizing the project are available on ePlanning at: https://bit.ly/3dtnt7C. The public is encouraged to provide substantive written comments using the BLM's ePlanning site at the link provided above, or by email at BLM_CA_PS_MesaWind@blm.gov. All written comments received will be considered and evaluated prior to issuing a final decision.

Before including an address, phone number, email address, or other personal information in a comment, please be aware the entire comment, including the personally identifying information, may be made publicly available at any time. While individuals may request personal information be withheld from public review, the BLM cannot guarantee the information will not be released.

For further information, contact Dan Ryan, BLM project manager at 530-252-5321, or by email at BLM_CA_PS_MesaWind@blm.gov.

"Green Energy" is founded on one thing, the greening of the portolios of those invested in billing you for these systems in your taxes and electric bills. The time for allowing multi-national industrialists to place these ugly monstrocities that are wasting our energy is over. First these should be torn down and only then should any developer be given any opportunity to apply for a permit for these monstrocities that would be much taller. I want the world to adopt the energy efficiency goal of removing all of these from the entire planet by 2050. These wind plantations that have for decades now ruined the entrance to Palm Springs and that entire area at the base of the San Jacinto mountains are hopelessly tied to electric grids that by matter of the principles of physics will always be fueled by coal, natural gas, oils, hydro, and nuclear energies. We have been misled on what they offer us as in one of the very foundational pitches used to get our energy in subsidies they claim they will reduce CO2 emissions. Besides the fact that CO2 is harmless, is the "oxygen" of all plant life, is recycled, never forms heat trapping blankets, and is merely 1 part per 2,499 other parts of air, they actually cause more CO2 emissions as grids rely on stable energy and these systems cause more standby power to be used as they are chaotic, turning off and on and off and on and off and on with no set patterns, thus, inspecting these foundations we see mostly quicksand.
https://eplanning.blm.gov/eplanning-ui/project/1504648/570 main page for all planning documents
https://eplanning.blm.gov/epl-front-office/projects/nepa/1504648/20018333/250024363/Appendix_C_Plan_of_Development.pdf that link WAS WORKING then I checked on 6/8/2020 and it was not gee I wonder why now it's here https://eplanning.blm.gov/public_projects/nepa/1504648/20018333/250024363/Appendix_C_Plan_of_Development.pdf
https://eplanning.blm.gov/public_projects/nepa/1504648/20018339/250024369/FINAL_Mesa_Wind_EA_Public_Comment_Presentation_(508).pdf
https://www.wind-watch.org/news/2020/05/21/blm-releases-mesa-wind-repower-project-for-public-comment/
https://ngmdb.usgs.gov/ht-bin/tv_browse.pl?id=95c6dda74293ad764887aaa1821a321c - topography map also archived here
as of 6/18/2020 at 6:04 pm pt there were a mere 10 comments submitted. Go here https://eplanning.blm.gov/eplanning-ui/project/1504648/510 and click on the "Participate Now" button on the left if you do this by the date shown below 6/19/2020
The following was a simple explanation by a scientist as to why California is on the wrong track with it's IMPOSSIBLE neurotic energy goals
Credit: Letters to the Editor | The Mercury News | August 21, 2020 | www.mercurynews.com ~~
Rolling blackouts took place when the sun went down along with 10 gigawatts of solar power ("Power outages in state loom," Aug. 18). Our electrical system can't go negative. It requires instant backup for lost power or the grid will become unstable and risk collapse. The only sources that can supply instant backup are existing fossil fuel plants already running for that purpose. Battery-powered backup is a distant hope of limited scope.
California didn't have sufficient fossil fuel backup to cover the loss of solar power. Immediate power from outside the state was unavailable. California was on its own.
Simply defined, it is California policy to subsidize the growth of solar and wind power and reduce (eventually shut down) fossil fuel production to force the transition. The state's success at closing down fossil fuel power sources has come home to roost. Much like cutting off one's nose to spite one's face.
Donald Eagling
Retired scientist, Lawerence Berkeley Laboratory
Danville
It's time to Recall Governor Gavin Newsom after the worst most Totalitarian regime non-normal-society-summer ever experienced in California
update 11/11/2020 court ruled to end his one man reign read here
https://recallgavin2020.com as the Governor of California and his crony corrupt friends all love these ugly things as long as they are not in their rich neighborhoods and since they have million$ the rich can always make sure they are never planted anywhere near them. This makes it so much harder for these poorer but beautiful areas. In all reality all these players know how to emass all the money for themselves while keeping the rest of us as slaves to higher and higher electric bills so even if you do recall him by then these things well be on their way to install and destruction of fantastic views. People must elect officials that are not going to allow the world to be destroyed by these energy wasting schemes and treat it's people like infectious waste. It appears to be the Republicans or Libertarians who are more balanced, do not force oxygen deprivation devices on you and your children in the fake war on viruses that also is emassing your money for their gain. The Democrat party loves fake clean energy devices as these systems transfer your energy to them and they love masking you and parading around pretending with their mask theater as Democrat officials were caught on mike saying they'd keep the masks on in front of the camera for theatrics and then laughed about it. https://recallgavin2020.com
It's October 3, 2020 about 7 months into endless California lockdown fake 'emergency' over cellular debris and you still cannot see a movie in a theater in of all places the former movie capital of the world HOLLYWOOD
you can watch here for free Michael Moore's new film PLANET OF THE HUMANS which exposes the massive fraud and lies about renewable energy and there is an excellent perspective presented in a report found here at Stop These Things about the illusions of 'renewable energy' systems and how energy is only transformed not 'used up'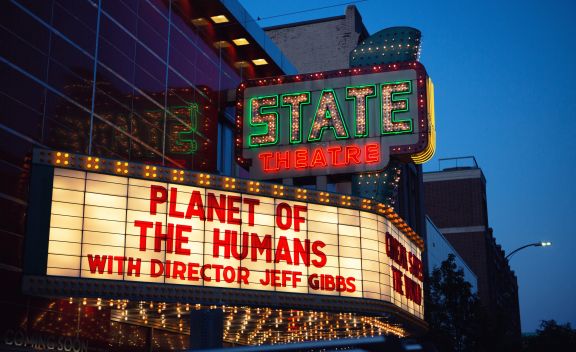 We have been heading in the wrong direction for decades with all this "fake clean energy". We need to stop, turn around, and go the other way, or we are going to end up so deeply lost in the wilderness that we will be devoured if we don't merely fall off a cliff first. My new energy goal is to have all wind turbines removed by 2050 for our health & allowing the current installations to play out their lives and the planet restored to it's prior splendor free from all wind and solar plantations that have enslaved us, freeing us forever from this bondage we erroneously call "clean energy".
Kenneth Wegorowski